All The Ways You've Ruined Your Hair This Summer—And How To Stop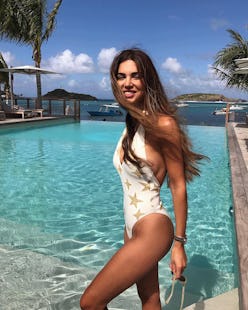 We know we're not the only ones who struggle with dry, lackluster hair every summer. Thanks to constant exposure to sizzling sun, chlorine and salt water, it's important to show your mane some extra love in the super-hot months. Keep it bouncy and healthy looking with these eight beauty buys you absolutely need to beat the elements. Go ahead, get out there and enjoy the season now that your hair is nice and protected.
Summer Hair Saviors
You already keep your face and body protected every day (we hope), but you're probably not doing the same for your hair, which means there's some damage there. UV rays penetrate your strands and make them weak and brittle, not to mention break down your color if your hair is treated.
This recovery mask helps nourish, repair and restore strands from damage caused by the sun—leaving behind soft and super-shiny hair.
Now that you've corrected the damage, it's time to prevent it from happening again. This shine spray provides UVA and UVB protection to keep your mane in good shape all summer long.
Chlorine strips away natural oils and leaves hair dry and brittle. Aside from the long-term damage, its bleaching effects also change your color (especially blonde)—usually for the worse.
Silicone-based products and oils like coconut and castor create a barrier on your strands and protect them from chlorine. If you're headed to the pool this weekend, apply a generous amount to wet, pre-pool hair and style in a bun or braid before taking a dip to limit the chemical contact.
Perfect post-swimming, this spray immediately adds moisture back to your hair. Also, if you plan to lie in the sun afterward, it will protect against UV rays.
Wash hair with a clarifying shampoo as soon as you get home from swimming to remove chlorine. Letting it sit for hours causes more damage .
Salt water can leave your hair seriously parched and weak—even detangling should be approached with caution.
Soak your strands in a protective oil to create a barrier that keeps the elements out. Before frolicking in the waves, apply this to limit damage.
We love after-beach texture, but detangling it can be a nightmare. Use a brush with flexible bristles that's extra gentle on your sensitive strands. Start at the tips and work your way up the hair shaft.
After shampooing, apply a deep-conditioning treatment from mid shaft to ends to revive thirsty locks. Throw your hair in a sleek bun to look chic while you hydrate.