These Hair Color Trends Will Be Huge This Summer, According To A Stylist
Antonello Trio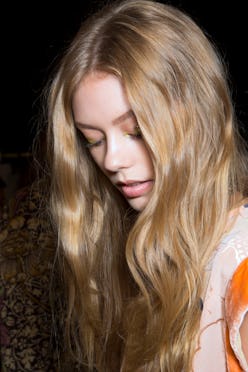 When it comes to updating your look, switching your hair color is the easiest way to make a big impact. Whether you're aiming for a total transformation, like going from brunette to blonde, or just adding a few face-framing highlights, choosing the right shade is key. To make sure you're right on trend, we tapped hairstylist Millie Morales for her forecast. Ahead, her predictions for the best shades of summer 2017.
Color Cravings
Tonal Shades
"Unlike last year's color blends like balayage, ombré and highlights, this summer is all about intense, tonal colors. Whether it's dark chocolate brown, bright red or golden blonde, all shades are looking more natural."
Wearable Blondes
"Two shades of blonde will be huge this summer. On one end of the spectrum, you have golden tones with minimal highlights, and on the other, an uptick of pale platinum blonde. Both will be popular, so choose based on your skin tone. Golden tones look amazing against warm skin, while platinum gives edge to cooler undertones."
Realistic Reds
"Realistic reds are making a comeback, while fire-engine reds are on their way out. Pick hues with brown undertones like mahogany and burgundy."