9 Heat-Styling Tools That Won't Fry Your Hair
VALENTINA VALDINOCI/valentinaval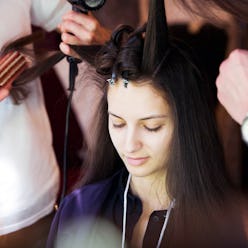 Are you guilty of turning up the heat too high when blow-drying, straightening or curling? We definitely are. Here's why we all need to stop: Hot tools can cause a lot of damage. Sure, they can take our hair to the next level—they have the power to change texture in ways that neither products nor our own hands can. But they're putting our strands at risk. Are we giving them up? No way. Instead, we've found several options on the market that promise safe heat styling. Here, the best ones to keep your locks (and your look) unscathed.
How Not To Ruin Your Hair
ghd Platinum Styler
Ghd's very own tri-zone technology helps keep hair healthy and strong. The heat (enough to straighten, but not enough to damage) is delivered evenly and consistently as you style.
Dyson Supersonic Hair Dryer
The brand originally known for top-of-the-line vacuum cleaners decided to launch its own hair dryer. The handheld has three different air flows, four heat settings and a cold shot. It works in lightning speed and reduces styling time by half. The way we see it, half the drying time, half the damage.
Hot Tools 24K Gold Marcel Curling Iron
This curling iron heats up quickly and maintains its temperature throughout the entire styling process, so you'll never touch the same strand twice. The Marcel handle locks and unlocks in place. A huge variety of heat settings are available.
Coolway System Flat Iron
This low-temp flat iron is just one staple in an entire heat-protectant system. The blue plates never go over 299 degrees, whereas most go up to 400. The styling products included in the bundle also boost your hair's natural water content.
Bio Onic 10x Ultralight Speed Dryer
This dryer is infused with natural volcanic rock minerals to emit negative ions that drive water deep into the hair. Your locks are ultimately left hydrated and conditioned on the inside and shiny on the outside.
Agave Healing Vapor Iron
Working as a duo, this flat iron and deep conditioner combination leave you with strong, sleek hair. The Vapor Infusion is filled so that you're conditioning your hair as you style it.
Remington T|Studio PROtect Straightener
This straightener uses water and a macadamia conditioner to supply cool micro vapor that treats hair while you straighten. The hair absorbs moisture, preventing breakage and damage.
Enzo Milano Clipless Curling Iron
This clipless curling iron has a ceramic core surrounded by a Tribostatic heat sink—a form of passive heat for consistent distribution. This allows proteins within the hair to be re-established evenly.
Luma Bella Cool Mist Straightener
Cool mist hydration allows you to use a lower heat setting when styling your hair, resulting in a lot less damage.