This It-Girl Hairstyle Is All Over Pinterest Right Now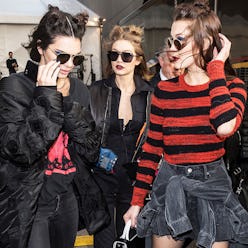 You might've assumed that when Coachella was over, so were space buns, right? Wrong! On the heels of festival season and Anna Sui's show at New York Fashion Week in February (where Kendall, Bella and Gigi kept the hairstyle going post-runway), the '90s hair trend continues its strong comeback. In fact, Pinterest searches for the throwback look have increased by 162% this year, not to mention we just can't seem to shake the deluge of images on our Instagram feeds.
So it's official. And whether you skewed more Baby Spice or No Doubt-era Gwen Stefani for the trend's original go-round, the modern-day version is just a few twists away. Scroll through for the best inspo on Pinterest now.
Space Buns