6 Gorgeous, Effortless Hair Ideas From Pinterest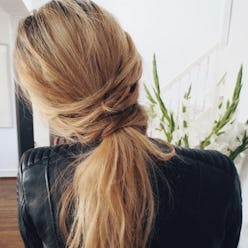 Right now we're taking full advantage of waning summer days—scheduling BBQs, beach trips and backyard soirees. And what better way to complement our billowy frocks and denim cutoffs than gorgeous, easy hairstyles that embrace the season's laid-back vibes? From braided updos to twisted ponytails with the right amount of texture, we've rounded up six ideas from Pinterest to try before fall begins. The best part? They all embrace the imperfect, so even a novice can pull them off with aplomb.
For an undone take on the classic French twist, sweep your hair from one side toward the crown of the head. Twist hair tightly, tuck ends under and secure with bobby pins. Gently pull pieces to loosen the twist, and add a spritz of texturizing spray.
Starting from one side, French-braid around the head and twist into a messy bun at the ends. Loosen the braid with your fingers and gently pull out pieces from the bun for an effortlessly messy result.
Create a chic pony-illusion by taking pieces from the front and alternately wrapping them over the hair until you get to the nape of the neck. Secure with bobby pins.
Take the front sections of your hair and twist upward until you get to the nape of the neck. Wrap around the base of the ponytail and curl the ends.
This polished updo is an easy last-minute fix. First, secure a low ponytail with an elastic. Create space in the middle above the elastic and pull the pony inward twice. Then, use your finger as a base to continue pulling through the pony as you roll it around your finger to create a twist.
This is a beautiful accumulation of knots around a single pony. See here for an easy visual tutorial.