This Is The One Product You Need For Your Hair Type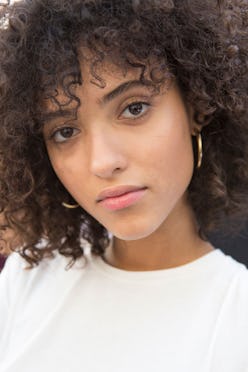 Chances are you've acquired a slew of hair products that promise everything from less frizz and static to more volume and shine. But instead of overloading your tresses, try pinpointing your #hairgoals and simplifying your method for achieving them. Here, we've identified the single best option for every hair type. Click through for what is sure to become the mane attraction in your arsenal. (See what we did there?)
One And Done
For Thin Hair
If you have fine hair, add a volumizing mousse to your routine stat. Avoid heavy creams and sprays, and opt instead for a weightless foam that gives limp strands a boost. Comb the product from roots to ends, then blow-dry hair with a round thermal brush, pulling upward at the roots and curling at the ends. The result will be bouncy waves with tons of volume—no pricey extensions needed.
For Curly Hair
Curls tend to dry out quickly, so a moisturizing mask is just what you need to bring your locks back to life. Stay away from silicone- and alcohol-based formulas that leave hair dry and frizzy. Look for replenishing butters and oils to leave your 'do shiny and your curls in formation.
For Wavy Hair
Heat styling day after day is just as damaging as it is exhausting. Instead of hiding your natural texture, embrace it. To make sure your waves look intentional and polished, give them some oomph with a texturizing spray. Mist onto damp hair while twisting sections for a perfect beachy look.
For Color-Treated Hair
We get that heat styling can be addictive, but if you have color-treated hair, it's important to protect your investment. Instead of singeing your strands with a blow-dryer or straightener every morning, start the process with a color-enhancing heat protectant. Yes, you can have healthy hair and your shade of choice.
For Damaged Hair
If your hair has seen better days, around-the-clock care may be exactly what you need to bring it back to life. Incorporate a nourishing oil into your daily routine, and focus on working it into your dry ends. Apply a small amount to damp hair and let it air-dry, or add a hefty dose and pull it into a sleek bun—that way you can rock the wet look while giving your mane some much-needed hydration.