Let's Discuss: Cornrows At Valentino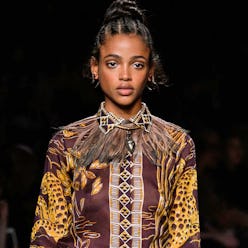 Season after season, we see the same hairstyle come down the designer runways: loose, undone waves that look almost as if they are natural and air-dried. What's the fun in experimenting with a hairstyle that is already your go-to on busy mornings? But the better question is where do our textured-hair beauties fall into this category? Not only is thick, curly hair not the best candidate for this style but the simple fact that texture is not taken into consideration often leaves this hair type with limited options.
This morning at Valentino's Spring 2016 show, models of all races and hair types walked in the Italian fashion house's African-themed collection decked out in feathers, beading, fringe and yes, cornrows. While we see this as a celebration of culture and an homage to textured hair, we're not sure the public will be quite as excited. If you can remember, Valentino previously received some backlash when they featured cornrows in their pre-fall 2015 campaign images (mostly because none of the models were actually African-American).
It certainly doesn't help that the issue of cultural appropriation has been top of mind in pop culture in recent months. In July, Kendall and Kylie Jenner both incited a social media frenzy when they Instagrammed photos of their cornrows. Also in the August issue, Allure magazine found themselves on the negative end of a cultural controversy when they featured a non-African-American woman wearing an afro.
What do you think about the cornrows at Valentino? Tell us what you think in the comments below.