Kristen Stewart Makes The Biggest Hair Change Of Her Career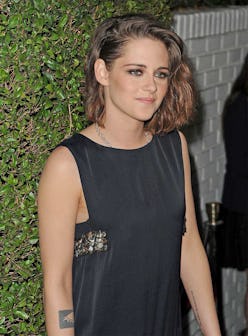 Kristen Stewart has experimented with red hair and dabbled with light-brunette shades in the past but for the most part, dark strands are her signature look. With her smoldering smoky eyes, vampy lip choices and too-cool-to-care attitude, it works for her. But yesterday, the 26-year-old actress threw us a curveball and stepped off a plane in LA with blonde—no, platinum blonde!—hair. Even though she was wearing a beanie over her newly bleached tresses, we could still see her dark roots peeking through. Maybe she couldn't fully let go of her signature look—and we don't blame her.
Tell us what you think of her new 'do in the comments below.
Getty Images