Kendall Jenner Joins The Short-Hair Gang
Josiah Kamau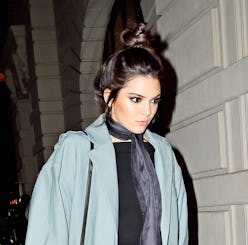 Kylie Jenner may change up her hair with the wind, but when her sister Kendall shares a sneak peek of a new chop, we pay attention. The 20-year-old supermodel appears to have ditched her long locks according to a half-photo on Snapchat this morning accompanied by the "face screaming in fear" emoji. Our thoughts: She's either dealing with post-haircut trauma or predicting our reaction when we find out this is just a wig for a fashion shoot (insert "embarrassed" emoji). While we can't see the entire style from the teaser pic, we suspect it's probably stunning—with a face like that, the girl could shave her head and still look gorgeous. But now the important question: Is long hair over?
Update: Looks like Kendall's chop is for real, debuting her cool cut at the Tyler The Creator show for Made LA on Saturday. The just-below-the-shoulders style is piece-y perfection and a refreshing departure from her usually long length. Below, check out the look for yourself and let us know in the comments below what you think of Kendall's fresh for summer style.
Update: She's chopped it even further, as revealed by her hairstylist Jen Atkin on Snapchat. While its only a tiny trim, she exclaimed how much more she liked it, but we have yet to see a clear image of her newest crop. Watch this space.
Snapchat
Getty Images