Kate Hudson Jokes About Shaving Her Head But Actually Makes An Excellent Point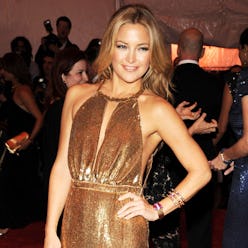 Earlier this summer, Kate Hudson revealed in an Instagram photo a shocking haircut that has the internet talking.
The actress, who's long been recognized for her golden blonde locks, debuted a drastic buzz cut courtesy of her role in pop star Sia's upcoming film. Kate is Cosmo's October cover girl, and in the interview she dishes on the real reason she shaved her head. When Cosmo asked her for post-workout beauty hacks, she cheekily responded: "Shaving your head. Cuts down on time spent post-sweat."
We mean, she was clearly joking ... but she makes a solid point. And we have to admit, she looks quite badass with her shaved head. The actress has been spotted on the Los Angeles set of the movie Sister with her head entirely shaven, joining the ranks of buzz-cut beauties Cara Delevingne and Kristen Stewart. We can't wait to see more as she rocks the cut in her new role.