The Terrifying Reason A Hair Product Landed Jessica Alba In The Emergency Room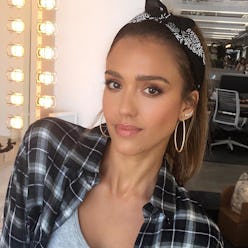 Jessica Alba's beauty empire keeps growing at an exponential rate. This week, the actress and founder of the Honest Company and Honest Beauty launched a hair-care line to expand the Honest Beauty range, featuring three separate collections: Beyond Hydrated for normal to dry hair, Truly Restored for dry and damaged hair, and styling products such as sea salt spray, heat protectant, volumizing spray and shine serum.
If you've ever wanted effortlessly beautiful tresses like Jessica's, you can try the products curated by the mogul herself. In a recent interview with The Cut, she explained why she decided to launch her own hair-care line and recounted the terrifying experience that led her there: "I was inspired to create it because I had a pretty severe allergic reaction to a couple of hair-care and styling products that everyone uses. I had to be taken to the emergency room on Father's Day and go on antibiotics. It ruined Father's Day, and my vision was impaired for almost a week. I thought, This was crazy!"
"I always was a little allergic to these products, [which caused] sneezing and watering eyes. But I never had swollen, infected corneas. I gave it to the doctor and he pointed to a bunch of different ingredients that could be the culprit, including a synthetic fragrance," she added.
It's safe to say that you will not find any cheap fillers listed as ingredients in Jessica's hair-care line, but rather high-quality botanicals that are a lot safer. Honest Beauty hair care is now available on honestbeauty.com and ulta.com.