This Instagram Beauty Trend Takes Art To A Whole New Level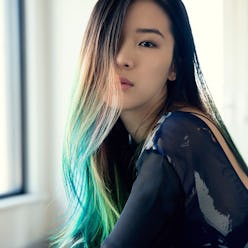 Just when you thought you've seen it all in the world of bizarre hair trends (who could forget the pumpkin spice latte phase), a new portfolio of colorful coifs hit our Instagram feed. We always knew the rainbow-hair process required a certain level of skill, but this latest trend proves that it is in fact an art form. Behind every great work of art, there's an artist and in this case it's Kansas-based hair colorist Ursula Goff, who creates abstract hair masterpieces inspired by famous paintings from Vincent van Gogh, Edvard Munch, Andy Warhol and others on her clients' strands. See the shockingly accurate proof here.
Would you try this artsy hair trend? Let us know in the comments below.
Hair Art
Vincent van Gogh's The Starry Night
Roy Lichtenstein's Drowning Girl
Andy Warhol's Marilyn Prints
Georgia O'Keeffe's Red Canna
Edvard Munch's The Scream
Gustav Klimt's The Kiss