Dos And Don'ts Of Rocking Straight Hair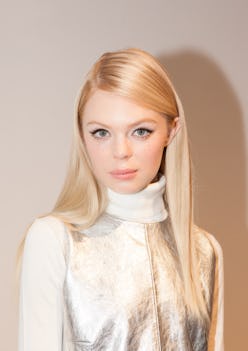 While the '60s were the decade of outrageous political happenings, wild clothes and groundbreaking music, there is one thing that came out of that decade that was perfectly simple: the super-straight and sleek hairdo. Our EIC's latest collection for Fall '15 was inspired by the seminal decade with mod minis, houndstooth separates and achromatic everything. The line was presented in New York City yesterday, and Rachel made sure the models donning the collection had hairstyles that also took a cue from that time. "I wanted the girls to look fresh and polished but easy and cool," she said. "[The hair looks] were the modern-day version of what Penelope Tree, Twiggy and Edie Sedgwick were doing with their hair back then." The result was nothing short of '60s-chic, polished perfection. Here—with the help of Harry Josh, the International Creative Consultant at John Frieda Hair Care—we provide you with tips on how to emulate the look in the comfort of your own home.
Fashion Week A-Go-Go
Photos: Hal Horowitz
Step 1: Mousse
Do: Apply a weightless mousse to wet hair from root to tips.
Don't: Be afraid of mousse–it's so easy to use and it works for any hair type, even thick, course hair. Working it into the scalp gives you incredible body and it never weighs your hair down.
Step 2: Serum
Do: Use a priming serum on the ends to keep them polished and smooth.
Don't: Apply serum at the roots­–it's meant to be applied to the ends only. If it starts to feel too greasy, you can use a dry shampoo to remove some of the oil but really try to use serum sparingly.
Step 3: Blow-Dry
Do: Create a deep side part and use a round brush to blow-dry hair straight.
Don't: Create a part on wet hair. The key is to part hair when it's wet and blow-dry in the direction you want it to go in. To find the perfect place for your part, use the arch in your eyebrow as a guide.
Step 4: Straighten
Do: Use a flatiron to straighten the ends and apply a spritz of hairspray to seal the look. Give it a mod flair by tucking hair behind ears.
Don't: Straighten too close to the roots–it flattens hair and leaves it looking limp. Running a flatiron only along the ends gives it a sleek look without sacrificing that '60s volume.