How To Make Your Braid Last All Weekend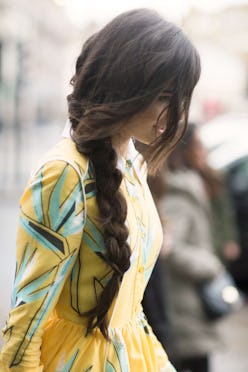 Whether you're on vacation or attending a 3-day wedding, having a hair plan will be the difference between looking hot and looking like a mess. Want our advice? Wear a braid and make it bulletproof. Here's how.
Step Up To The Plait
Friday Morning: Apply A Texturizer Beforehand
Whether you're putting your braiding skills to work or getting your hair done at a braid bar, applying a texturizer from roots to ends will help keep its shape all weekend long. Start with a milkmaid braid made from two pigtails (you'll see why later).
Friday Night: Sleep With A Silk Scarf
Wrap a silk scarf around your head (or if you're feeling really fancy, you can lay your head on these silk pillows) to prevent snagging your braid. Trust us, this will help your hair look much less fuzzy in the morning.
Saturday Morning: Anchor Your Plaits
Midway through day 2, your braids will start to feel less secure. Pin your plaits in place with bobby pins to make your style sturdy.
Saturday Evening: Embellish Your Braids
Switch up your look for an evening on the town by adorning it with embellished hair pins, a pretty headband or—if you're in a tropical locale—fresh flowers.
Sunday: Let Your Braids Down
Remove the bobby pins from your milkmaid braid and you'll be left with pretty, textured pigtail braids. Pull them apart a little to create volume and spritz on a hair oil for a touch of shine.