5 Hot-Weather Hairstyles That Are Anything But Boring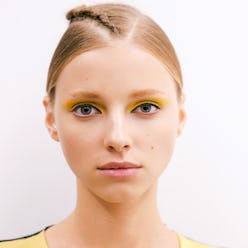 The only thing worse than triple-digit temperatures is having to brave the heat with your hair draped around your neck. In the interest of chic relief, we're showing you five out-of-the-way hairstyles to keep you looking and feeling cool all summer. And the best part: There's not a basic pony in sight. Flip through for the most unexpected but totally wearable hot-weather hairstyles.
A braid-ponytail hybrid is not only eye-catching, it's actually much easier to create than it looks. Use a metal tail comb to create a V-shaped part beginning front and center. In that section, swipe hair to one side and create a tiny French braid. Pull remaining hair into a low ponytail and spritz with hair spray to keep everything in place.
An undone bun is the ultimate summer cool-girl hairstyle. Start by smoothing hair with a heated paddle brush and pull straight back into a ponytail. Work a texturizing spray into the hair before coiling the pony into a bun. Let the ends hang loose and secure with bobby pins.
Never underestimate the power of a ponytail. It keeps the hair out of your face when it's hot out and, when done the right way, can look incredibly chic. To get the look, create a deep side part and use a boar brush to smooth hair into a low pony. Use hair spray to tame flyaways and add a pretty hair accessory at the base.
An easy (and we mean really easy) way to get your hair out of your face is to slip on a headband. No matter what your hair type, this stretchy comb will stay in place all day during any summer activity. Apply mousse on wet hair from roots to tips and slide on the headband. If you have long hair, twist into a low bun and spritz flyways with a high-shine hair spray.
Try the wet look—while also treating dry, damaged hair—by slathering your tresses with a nourishing oil from roots to tips. For an unexpected twist that works for anything from beach parties to summer weddings, opt for a hybrid braid. Click here for a tutorial.
The half-up ponytail has been around for years, but this updated version is perfect for summer. It's easier than it looks: Watch this step-by-step video and you'll be on your way.
This summer, skip the crown braid. Instead, opt for something a bit more understated and a lot less expected. Create a center part, apply styling paste and create one braid on each side. Pin both braids to the back center and leave the rest of your hair down.
Who said a ponytail had to be basic? This sleek, sexy look is perfect for keeping your hair out of your face without looking boring. Click here for a full tutorial.