5 Modern Holiday Hairstyles For Non-Boring Girls
Alessandro Zeno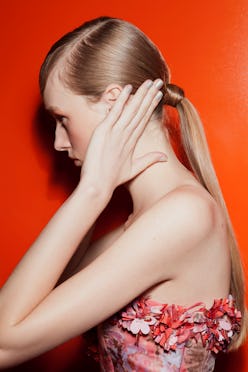 It always happens this way: You spend hours planning and shopping for your holiday outfit, but when it comes to your beauty strategy, you lose steam and wind up running out the door with a haphazard 'do. To make sure your festive look is complete, we've rounded up five sleek hairstyles that go with any party-ready ensemble. Pick one, pair it with your favorite makeup, and you're good to go.
Hair Story
Complement a sleek hairstyle with minimalist accessories.
Work a styling cream into wet hair to give your locks shine. Pull hair into a low ponytail, using a boar brush to smooth out bumps. Fold the ponytail in half and pin to the back of the head, tucking under any strays. Embellish with a gilded barrette or two.
Give a basic chignon an easy update.
Create a loose, low French braid and secure ends with thin, clear elastics. Twist the braid into a loose bun and secure with bobby pins. Spritz with hair oil for added shine.
Never underestimate the power of a sleek ponytail.
Start with a super-sleek base by creating a deep side part and using a flat iron to make hair pin straight. Pull hair into a low ponytail, using a boar brush to smooth out bumps. Wrap a section of hair around the base to hide the elastic, and pin to secure.
A hybrid hairstyle is half braids, half ponytail and completely modern.
Create mini French braids on either side of the middle section and secure ends with clear elastics. Slick all remaining sections into a high ponytail. What you do with the rest is up to you. Leave it in a ponytail, braid the ends or create a bun—you decide.
There's no better time than the holidays to opt for a classic.
Work a texturizing spray from roots to ends and use a teasing brush to give your hair lift at the crown. Create a deep side part and sweep all hair to one side, then pin in place. Beginning at the ends, roll hair vertically to create the twist, then pin to the back of your head. Create a similar look in five minutes with our video tutorial.