Hairstylists Reveal The Best Hair Advice They Ever Received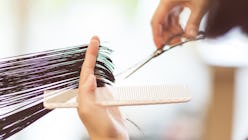 Ask any hairstylist to give you hair-care or styling advice and they'll give you a mouthful of answers, but ask them to give you the best hair advice they ever received and the list is much, much shorter. Why? Stylists have heard it all, so asking them to pinpoint the best advice they've heard is quite the challenge. But, we found a group who were up for the challenge and dished a few lessons you'll want to always keep in mind. Take a look.
"Don't be afraid of change, hair is your best expression of personality and your best accessory. It can make or break your outfit so it should reflect who you are." —Chris Appleton, ambassador for Color Wow.
"The best haircare advice I ever received was to drop of oil at night—rub in your hands and gently pat on the ends of your hair, then use your Mason Pearson Brush and carefully brush your hair. The best styling trick ever given was to invest in 8 round brushes and roller set your hair with them when blow drying for maximum volume." —Amanda George, founder/owner of ROIL salons.
"There's a myth that as you age that you should go lighter but that is not always the truth. Your hair color has a direct affect on the pigmentation of the skin. Even as you age it is important to keep your skin tone into consideration when using color." —Cristophe of Cristophe Beverly Hills salon.
"Always bring a born, natural, realistic element to every look that you create. So many people go overboard and push the boundaries. Even if you are doing something extreme, and regardless of what kind of hair they have (curly, straight, colored, etc), the client should always look like they could have been born with that style." —Damien Carney, Schwarzkopf Professional north American creative director and celebrity hairstylist.
For more pro hair advice, read the full article on Allure.