All The Hair Products You're Using Wrong, According To Hairstylists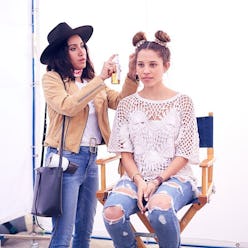 Let's talk about hair products: Why do they work miracles at the salon but when you try them at home, they don't have the same effect? To put it simply, you're using them wrong. To help you step up your hair game, we tapped six stylists and major haircare brand founders to crack the code on commonly misused products. Because when you want something done right, learn from an expert.
Get Schooled
Mousse
"Styling balms and foams should never be applied to completely wet hair. At the very least, rough dry your roots, as this is the heaviest part of your hair, for the most natural volume. People also tend to start application the front or sides of their head, which is wrong. You should apply any styling balms and foams at the crown of your head and blend out from there, so you get volume at the crown and prevent crunchy sections."
—Aaron Grenia, Cofounder of IGK Hair
Gel
"Hair gel can be a great product when used the right way—it can be misunderstood and is oftentimes used incorrectly. The word 'gel' can sound intimidating, but the serum in Oribe's Gel Serum helps keep hair soft, pliable and easy to style. You can apply it to damp hair and blow it out with a round brush for added shine and a strong (but not crunchy) hold."
—Coby Alcantar, Director of Training and Content, Cutting for Oribe Hair Care
Dry Shampoo Foam
"When it comes to Ouai's Dry Shampoo Foam, sometimes people are using more than they need for their hair type. You should start with a ping-pong-ball-size amount or less for fine hair. If you have thicker hair, you can always build from there. The key is to keep rubbing! Rub the foam into your hair until it is completely dry to achieve the full effect of the dry shampoo."
—Jen Atkin, Celebrity Hairstylist and Creator of Ouai Haircare
Hairspray
"Hairsprays and dry shampoo aerosol sprays are almost always used wrong because people have a tendency to spray them to close to the head. It's all about consistency through application. Sprays should be applied from at least eight to ten inches away, in quick sections, then combed through or shaken out. This will ensure the product doesn't get built up in any section and prevents you from overusing. Also, always shake any aerosol first."
—Leo Izquierdo, Cofounder of IGK Hair
Styling Cream
"In general, styling creams, like R+Co's Jackpot, are underused because they are misunderstood. Styling creams should be applied at the root of the crown or wherever else volume and lift are needed. Applying it all over from roots to ends can weigh hair down and make it sticky."
—Andrean Noir, R+Co Hair Educator
Oil
"With all products, I suggest starting out on damp hair instead of soaking wet hair so as not to dilute the product. When it comes to hair oils like Oribe's Gold Lust, I suggest using it toward the ends where the hair is thirsty and using products that give volume and structure along the crown. Applying it throughout can weigh hair down. As for the amount, I compare hair oils to salt—everyone likes a different amount, but all recipes could be better with a touch of salt."
—Coby Alcantar, Director of Training and Content, Cutting for Oribe Hair Care
Conditioner
"People have a tendency to think their hair is drier than it actually is, so they end up using too much conditioner or applying it directly to the roots, which weighs hair down. Always start with the lightest conditioner option, applying only to the ends, and layer in heavier options as needed, like a hair mask one or two times per week."
—Franck Izquierdo, Cofounder of IGK Hair