The Haircut You Need, According To Your Hair Type
Backstage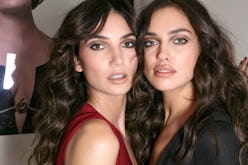 There are so many factors to be taken into consideration when choosing a haircut—the biggest one being your hair type. Whether it's thick, thin, curly, straight or anything in between, we have a multitude of suggestions for each. Now all you have to do is pick your favorite.
Cut It Right
Depending on the thickness of your hair, your straight strands can feel flat at times. Use it to your advantage to try a sleek, blunt cut, or incorporate layers to give your hair movement and dimension.
Layers
Long Without Layers
Blunt Bob
Wavy-haired girls, you have the easiest texture of all. Add a little salt spray in the morning, and any cut can pass as effortlessly beachy. Wear your waves long or layered to channel your inner mermaid, or opt for a shorter cut for something modern and edgy.
Effortless Bangs
Long Layers
Long Without Layers
Blunt Bangs
No matter how tight your curls, this style can be tricky. Whether you decide to go for volume or length, we suggest having your stylist cut it dry to avoid any surprises.
Medium Loose Curls
Bangs
Medium Tight Curls
Short
Ladies with coarse hair are lucky: They have many viable options and can base their decision on their lifestyle. If you want zero fuss, try the edgy buzz cut; if you don't mind the maintenance, go with long locks.
Micro Cut
Short
Medium
Long
While it's often coveted, thick hair can make your routine feel overwhelming. Shorter styles and bangs will take some of the weight off your style. If your thick hair falls flat, get rows of layers; if it has too much volume, opt for an even cut without the layers.
Medium Length Without Layers
Bangs And Layers
Blunt Bob With Bangs
Long With Layers
With thin hair, you can go for any haircut, but the magic is in the styling. If you prefer a sleek look, opt for a blowout with a lot of bounce, or wear a shaggier cut with tons of texture. If you're looking for something in between, have your stylist give you layers for added volume.
Short With Volume
Medium Length With Layers
Shaggy With Bangs