Golden Globes Beauty: Celebs Balance Their Couture With Casual Hairstyles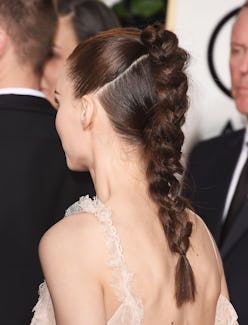 Beauty lovers know that no outfit is complete without the perfect hair and makeup combo, but as seen on the Golden Globes red carpet tonight, sometimes your 'do is better left—well—undone. Among those going for that effortless, too-cool-to-care look were Olivia Wilde, Rooney Mara, Kate Bosworth and several others. Somehow going for less glitz translated to more glamour. Bravo ladies! Click through to see some of our favorite easy-breezy looks.
Rooney Mara's Braid Hybrid
Not quite a half-up-half-down ponytail and not just a simple braid, Rooney's hairstyle is all glam.
Caitriona Balfe's Sleek Ponytail
It looks just as good at the gym as it does on the red carpet.
Rosie Huntington-Whiteley's Effortless Waves
Rosie rocked her usual wave and looks as beautiful as ever.
Olivia Wilde's Loose Ponytail
Tying a rubber band at the base of your ponytail is so 2015.
Kate Bosworth's Ballerina Bun
Clearly, a 2-minute hairstyle doesn't have to be any less chic.