The Hair Color Trends You'll See Everywhere This Fall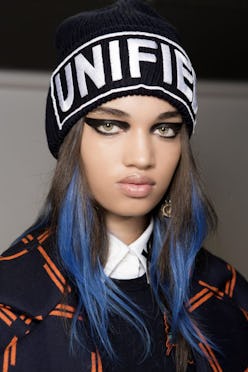 Trends come and go as quickly as the seasons do. As we gear up for fall, we're looking to the 2017 runways for some much needed hair color inspiration. Whether you're brunette, blonde or somewhere in between, click through to find your next signature look.
Platinum blonde strands aren't giving up the spotlight just yet, and this season the trend runs the gamut from cool white tones to the warmest of shades.
Brights are taking off and they're more personalized than ever. Whether you go full-on dye job, ombré, highlights or asymmetrical, now's the time to get creative with hue and the placement.
Who said jet-black hair was boring? The deep, darkest-of-dark color is so on trend. It's amazing on all skin tones and really makes a statement. Basically, if you want to drastically change your look, this is it.
Even if you weren't born with it, you can achieve a realistic red (especially when you tint your brows to match). Keep in mind that this one can be difficult to manage.