Your Hair Routine Should Be Completely Different This Season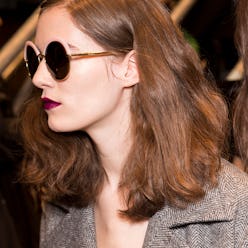 Sad as it may be, summer is coming to a close and it's time to say goodbye to your bikinis, strappy sandals and flowy dresses. To make matters even worse, fall is about to hit us right where it hurts: our hair. Just as you switch up your favorite outfits every season, you should be giving your beauty routine an equally in-depth refresh. Ahead, our tips for building a beauty wardrobe that will keep your hair healthy no matter how low the temperature drops this fall.
How To Care For Fall Hair
Start Fresh
Whether you know it or not, your hair can be suffering the aftermath of your days in the sun. Buildup from products like sunscreen, salt sprays and oils might be lingering on your scalp as we speak. Shampoos are a great way to refresh from day-to-day sweat, natural oils and dust, but you need something stronger for a total reset. A clarifying shampoo will get rid of all that summer buildup and get you stepping into fall on the right foot.
Keep Up With The Moisture
While the most humid days of summer can be miserable (insert flashback of you on vacation sporting a frizzy 'do), they work wonders for your hair. But as the moisture in the air dwindles more and more every day, your mane will feel the effects. Instead of letting your hair get as dry as the fall air, incorporate a hydrating mask into your weekly routine. If you're looking to invest a little more, keep a humidifier in your room to pump up moisture levels.
Swap Your Linens
This summer was such a scorcher, we did anything we could to keep cool, including sleeping on lightweight sheets. However, fabrics like linen and cotton can be so absorbent that they dehydrate and tug at your hair as well as cause breakage and split ends (not to mention their effects on your skin). This fall, switch your bedding—especially your pillow cases—to silk.
Get A Trim
Salt water, chlorine and harsh UV rays wreaked havoc on your hair all summer long, and now it's time to see your stylist. Have your trusted hair guru evaluate the damage and chop off your ends. If you're anything like us, you might be trying to hang on to the length, but trust us, a simple trim will make a huge difference in the overall look of your hair.