5 Ways To Fake A Bouncy Blowout In Less Than 5 Minutes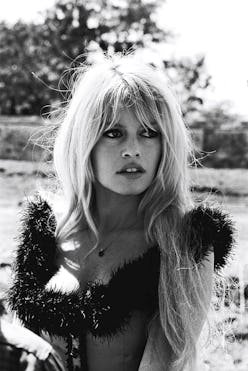 Channeling your inner Brigitte Bardot can take work, but really who has the time for that? As much as we love to think we can do it all, the truth is it's impossible to find the time (not to mention the budget) to get a professional blowout on a regular basis. So to celebrate the voluminous-haired icon's birthday, we're showing you five tricks for faking a salon style in less than five minutes. Yes, you can do it yourself, and no, you don't need to be good with a blow-dryer.
Big, Bouncy, Bardot Hair
Blow Out The Top
If you're starting with wet hair, first blow-dry using your hands (no brush) until nearly dry. Use a frizz cream to tame flyaways and give strands some shine. Next, on only the top and front sections of hair, use a large thermal brush (which essentially works as a curling iron when heat is applied) and a blow-dryer to smooth the shaft and curl the ends. Lift each section at the roots to give extra volume.
Use A Curling Iron
Skip the blow-dryer altogether and still get big, shiny waves. On clean or second-day hair, curl large sections with a 1½ or 2-inch curling iron—the larger the barrel, the more movement and bounce you will achieve. On the bottom sections of hair, focus your energy on the ends.
Break Out The Buns
If you're feeling especially lazy, a couple of strategically placed buns will do the job for you. Work a volumizing mousse from roots to tips on dry hair, and place a bun on the top of your head and one at the back (more buns will give you curls). Apply heat to the buns with a blow-dryer and let them sit while you get ready. The trick is to neatly tuck in the ends to avoid awkward kinks.
Put It In Rollers
On dry hair, apply a couple of rollers from ends to roots. Remember, focus on the top and front sections to save time, and use larger barrels for more volume. Let the rollers sit while you get ready, and take them out once you've done your makeup and gotten dressed. Use a boar-bristle brush to soften curls and give hair a healthy shine.
Do The Twist
This technique may sound like a hoax, but trust us, we do it all the time. If you're running out of the house with wet hair, apply a shine-enhancing texture balm. On your way to work, run your fingers through in a twisting motion (away from the face). Continue this until your hair is dry, and you'll be amazed how frizz-free and shiny it looks. You won't get much volume, but it'll look sleek and neat all day.