Emma Roberts And Lucy Hale Introduce The New Hair-Color Trend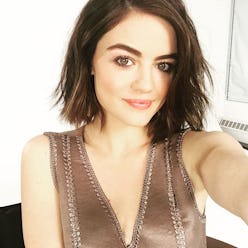 When stuck in a hair rut the best way to break out is to find inspiration, and where better to look than to your favorite, stylish celebs? Most recently, Emma Roberts and Lucy Hale's hair-color change ups have lead everyone in our office on the pursuit of the newest hair-color trend: metallic hues. Peep these gorgeous shades then take them to your next hair appointment. We guarantee your fresh 'do will inspire everyone you know.
Emma Robert's Warm Rose Gold 'Do
Emma Roberts warmed things up by trading her go-to blonde for a rose gold shade, complete with longer extensions. The Scream Queens star looks spring ready with this easy hair update that flatters a wide range of skin tones.
Lucy Hale's Platinum Blonde Hair
Lucy Hale dabbled with a golden blonde hairstyle back in February but her pursuit of #HairGoals didn't stop there. After wrapping season 7 filming of Pretty Little Liars, the actress made the most of her newfound freedom and opted to try a full-on platinum 'do with dark, lived-in roots. While her lighter look is only temporary until filming resumes (oh, the life of an actress), Lucy's new color is sure to be the source of inspiration for summer styles to come.