The Best Hair Hacks For Lazy Girls
Alessandro Zeno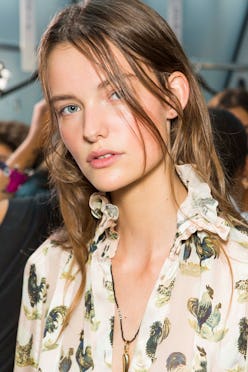 We always thought we'd grow into being a morning person, but even now, as full-blown adults, we still hit the snooze button more times than we can count. But just because we can't wake up refreshed at 7am, that doesn't mean we want our hair to suffer. Luckily, we've learned a few things from years of oversleeping. Ahead, how to make your hair look flawless, even if your morning is anything but.
Lazy Lifesavers
Do Two Things At Once
Sometimes, all you have time for is quickly running a brush through your hair. A heated one like this not only removes knots but de-frizzes, straightens and styles all at once. Go ahead, press snooze once more.
Style Your Hair Before Bed
Any iteration of a braid—French, Dutch, pigtail—when slept in will give you back-from-the-beach waves by morning. Just unravel and go! Add a texturizing spray for extra oomph.
Dry Your Hair With A Cotton Tee
Drying your hair with a towel is the easiest way to ruin it, as harsh fibers can damage your strands. Instead, use an old cotton T-shirt to gently squeeze out moisture post-shower. Bonus: Blow-dry time will be significantly shorter.
Style The Pieces That Matter
Use a curling iron or wand to shape the pieces around your face. Yes, in a perfect world, your entire head of hair would be a flowing masterpiece—but if you're late, it takes just a few minutes to perfectly manicure the front.
When it comes to your look, a simple detail can be the difference between looking polished or thrown-together. A sleek loop at the top of your ponytail can give your 'do an instant facelift. Start by pulling straightened hair into a high ponytail. Wrap an elastic around the base to secure; on the last pull-through, fold hair and snap the elastic around the loop.
Sometimes all you need is a little bling to look radiant. Wear a headband along the hairline for a romantic feel and twist the front sections of your hair back and around the headband to create a flip. Pin to secure.
Dare to bring back the satin ribbon with this ballerina-inspired, polished ponytail. Pull straight hair back into a low ponytail and secure with an elastic. Embellish with a loose bow.
Trends are constantly circulating—we're sure you remember this look from middle school. It's back and chicer than ever. Tie hair into a low pony and add elastics in 1-inch increments until you reach the end. The result is surprisingly grown-up.