Is Your Brush The Reason You Have Damaged Hair?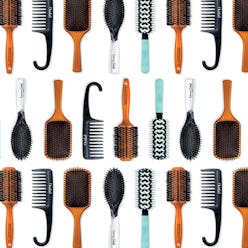 It sits there on your bathroom counter, inanimate, harmless. The label on its handle is gently worn from use. Most mornings and evenings, it's basically an extension of you—well, your arm at least. But your reliable brush that's lulled you into a relationship of trust could actually be sabotaging your hair.
Imagine running scissors along a ribbon. That's similar to gliding jagged brush or comb teeth through your hair. They can damage the cuticle and cause microtears. First step: Run the brush along the inside of your arm and feel the seams on the comb's teeth. If the former leaves any scratch marks or the latter feel sharp, it's time to go shopping for new styling tools with the help of hairstylist Nathaniel Hawkins.
For fine hair:
Vent brushes (like Cricket Static Free Comfort Fast Flo Brush) have widely spaced bristles that pass easily through hair and rubber tips that protect fine strands from being shredded. The open base also allows air and moisture to breeze through for quicker—and less damaging—blow-drying.
For thick hair:
Dense hair can handle a stronger pull from a brush. Natural boar bristles (found in Leonor Greyl Natural Boar Bristle Brush) effectively grab hair and feed it through for a smooth look. (Synthetic bristles are more likely to have to rough edges, says Hawkins.)
For everyday use:
The large rubber or nylon bristles on paddle brushes (like the Aveda Wooden Paddle Brush) are gentle enough for pretty much any hair type, even damaged. And because the bed is cushioned with air, when you're brushing, it gives a little to reduce tension.
To find the perfect brush for your hair type, read the full article here.
By Lexi Novak, Allure Beauty Editor