Try This Braid Right Now If You Have Layers In Your Hair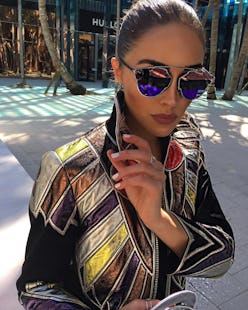 Anyone with layers or short hair knows that creating a braid is close to impossible to keep in place all night. It seems like the second you walk out of the house, you already have chunks of hair falling out in all directions. And it never looks messy in a cute way—it just looks sloppy. Luckily, this braid is as functional as it is fabulous.
Justine Marjan created a bubble fishtail braid with accents of gold in between the plaits and it's the answer to securing unruly strands. On her Instagram, she shared the steps to getting Olivia Culpo's hairstyle. She suggests prepping the hair with a mousse before hitting it with a blowdryer and spritzing with a texturizing spray. Use a flat iron to create a textured wave and sweep the hair to one side. Create a fishtail braid and secure the ends with a gold wire. Create sections by adding more wire in between the plaits, then pull apart to create a thicker braid. Voila!