These Luxe Hair Products Are Worth Every Penny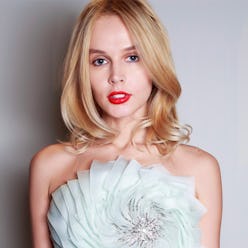 Some things in life are totally priceless—unfortunately, good hair is not one of these things. While it's plenty fulfilling, it often requires you to dole out extra cash. But with so many products on the market, it's almost impossible to know what's actually worth opening your wallet for. Before you go blowing your budget on products that don't work, scroll down for those we don't mind shelling out the big bucks for. If you think about it, you'll actually save money by cutting out the trial-and-error phase altogether. Things are looking up.
Luxe Locks
There was once a time when we had multiple curling irons in our bathroom drawer. They were all different shapes and sizes and they took up way too much space. Then came this totally innovative interchangeable iron. With a wardrobe of barrels that quickly click in and out of the handle, you can have the styling options you love, without taking up valuable real estate in your beauty drawer. Though the price might feel a bit steep at $270, think of it this way: You're getting three curling irons. That's less than $100 each!
Our income isn't disposable, but spending just under $400 on a hair dryer was the best decision we've ever made. This powerful tool gets hair dry in half the time and only makes half the noise. And they really thought of everything when designing this cult-favorite styling tool. The tip of the barrel is magnetic, which makes adding and removing attachments so much easier. On top of everything else, the cord is really long, which is perfect for those who don't have an outlet right in front of the mirror.
Before you completely write off this $53 eight-ounce jar of "cleansing volumizing paste," hear us out. The first time we used it, we applied way too much—a little goes a long way, so it will last you a long time. Be warned: The texture will throw you off. It's a cross between a clay face mask and a body scrub—it's gritty, thick and even a little bit gooey. Start by massaging it into your scalp. The scrub will remove buildup and promote circulation, while clay soaks up excess oils. Add water to create a lather and rinse. From the second we washed it out, our hair felt super clean, soft and detangled. Once it dried, we were left with a ton of volume and a scent of rose that lingered for days.