The 10 Best Places To Get A Haircut In Los Angeles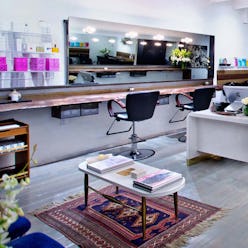 Whether you're a resident of Los Angeles or just visiting for the weekend, finding a good place to get a haircut can be daunting. Luckily for you, we scoured the streets of LA so you don't have to. Here, 10 salons for everyone from the minimal maven to the laid-back gal—all guaranteed to deliver excellent results.
Goddard + Bragg
Led by celebrity hair stylists Lorri Goddard and Chris Turner-Bragg, Goddard + Bragg boasts an outdoor oasis and private entrance for their celebrity clientele. You just can't beat the impeccable service and relaxing environment offered in this tucked-away, West Hollywood gem.
656 N Robertson Blvd, West Hollywood, CA 90069
Andy Lecompte Salon
For being such a big name stylist, Lecompte—who has styled the hair of celebrities like Diane Kruger, Demi Moore, Nicole Richie, and Jessica Alba—is laid-back and relaxed. Nestled in the heart of West Hollywood, the modern, loft-like space—chock-full with works of art—is sure to inspire your next gorgeous haircut.
616 North Almont Drive Los Angeles, 90069
Benjamin Salon
Channel your inner French girl at this Los Angeles salon, while simultaneously receiving the haircut of your dreams. Drop your purse on an Edwardian writing table, sip tea from mismatched China cups and admire works of art from artists such as Shepard Fairey, Anthony Lister, and Curtis Kulig, all without having to leave your West Hollywood bubble.
8910 Melrose Ave, West Hollywood, CA 90069
Sally Hershberger
For a true premium experience look no further than the Sally Hershberger Salon. While the prices are steep, the service and the views are unbeatable. What could be better than being pampered overlooking the Hollywood hills?
760 N La Cienega Blvd, West Hollywood, CA 90069
Spoke & Weal
It may look like you'll be easily forgotten in this bustling salon, but don't be fooled by the large industrial space and rows of stylist chairs. From the moment you arrive you'll be treated like a VIP, and you'll leave with hair to match.
8211 W 3rd St, Los Angeles, CA 90048
Frederic Fekkai Salon
Located on Melrose place, this swanky 2-story salon is sure to impress with its impeccable service and even better haircuts. All trained by the legendary Frederic Fekkai, the stylists are sure to deliver the signature cut you've been searching for.
8457 Melrose Pl, Los Angeles, CA 90069
Méche Salon
Frequented by celebrities such as Gwyneth Paltrow, Emma Stone, Cameron Diaz, and all of the Kardashian sisters, Méche salon is one of the best kept secrets in LA. While it may cost a pretty penny, your hair will never look better.
8820 Burton Way, Beverly Hills, CA 90211
Chaz Dean Salon
Tucked away in the heart of Hollywood, this hidden oasis consists of private bungalows surrounded by tropical plants and sooting water fountains. Not only will you feel relaxed and at home, your hair will never feel healthier, care of Chaz's signature conditioning treatment.
6444 Fountain Avenue Hollywood, CA 90028
Chris McMillan Salon
A favorite of the LA style set, the Chris McMillan Salon catapulted onto our list after a single visit. Get comfortable in the urban, boutique-like location and discover just why Chris is such a fan favorite.
8944 Burton Way Beverly Hills, 90211
Cie Sparks Salon
Planted between the Santa Monica Mountains and the Pacific Coast Highway in Malibu, Cie Sparks offers a high-end salon experience without the hustle and bustle of the city. The only thing we love more than its proximity to the beach is its bright decor.
3835 Cross Creek Rd #22, Malibu, CA 90265