6 Unexpected Wedding Hairstyles For Fall Brides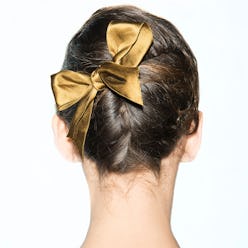 Planning a fall wedding? The simple fact that you've strayed away from the spring bridal pack tells us the you like to do things on your own terms. Since you're not the typical bride, we scoured the most fashionable runways from New York to Paris for 6 hairstyles that are sure to make your grand entrance that much better. From alternatives to the classic veil to a hybrid-ponytail braid (not exactly your mother's wedding-day 'do), these unexpected wedding hairstyles are just as unique as you are—as they should be.
Skip The Veil
Start your own tradition by opting for sculptural hair accessories instead of a veil.
Give An Old Hairstyle New Life
When in doubt, go with the classic French twist. Make it look modern with an oversized satin bow placed at an angle.
Dare To Wear A Ponytail
If it's not your average gym-appropriate ponytail, we say go for it. With the right statement jewelry, this faux-braid twist is sure to make a statement when all eyes are on you.
Upgrade The Milkmaid
Boho brides, rejoice. Finally an update to the go-to milkmaid braid.
Wear 2 Styles At Once
Classic in the front, unexpected in the back. Boom!
Bring Back A Childhood Favorite
We told you these were unexpected. And the best part is this sleek dual ponytail look shows off the back of your dress (hello, backless styles).