4 Reasons Your Hair Should Not Be Cut When Wet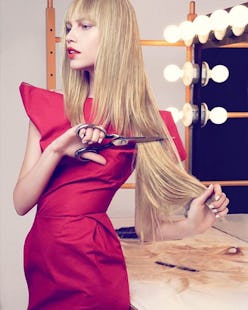 We're willing to bet that your usual haircut goes a little something like this: Start with a shampoo, pop into the stylist's chair, get your hair trimmed, then finished with a blow-dry. If you've never had it done any other way, chances are you've never questioned it. Rule #1: Question everything. Making the chop on dry hair can actually provide better results and even be healthier for your locks. Here, four reasons to change the order of your next hair appointment.
Reason 1: It's Faster
A dry cut eliminates all the time it takes to shampoo, condition and blow out your hair. You can pop in on your lunch break and still have time to grab a bite to eat on your way back to the office.
Reason 2: There's Less Room For Guesswork
We all know our hair looks a lot different when it's wet. Cutting it when it's dry allows your stylist to shape it with your natural texture in mind. This is especially game-changing for curly and wavy hair types.
Reason 3: It's Healthier For Your Hair
When hair is wet, it becomes more fragile and prone to breakage. Getting a dry cut removes the need for detangling wet hair after a shampoo (which is where most of the damage happens) and cutting hair in its weakest form. Dry cutting ultimately ends in less breakage and less damage.
Reason 4: It's Easier To Style At Home
Go into your appointment with a style you usually wear (e.g., if you never blow-dry your hair, wear it air-dried). Your stylist will work around that instead of styling it for you in a way you could never re-create at home.