3 Haircolor Trends Taking Over Social Media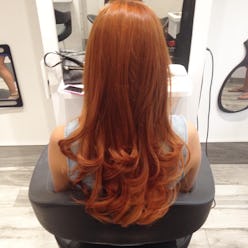 Beauty trends are constantly surfacing on social media—great for inspiration, but not so great for your sanity if you're obsessed with staying on top of all things hair and makeup. It's a full time job (and in our case, we mean this quite literally). Our 3 favorite looks this week include a style named for our favorite holiday latte—how's that for timely?
Pumpkin Spice Latte Hair
When Starbucks rolls out the pumpkin spice, you know it's fall, regardless of the temps outside. Now comes a haircolor inspired by the seasonal drink. Seriously. Women across the country are dyeing their hair all shades of warm copper to get in the fall spirit. And we thought we had a serious relationship with our morning coffee.
Babylights
We know women are on a constant quest for youth, but who knew Benjamin Button would be the next thing in #hairgoals? Babylights create subtle dimension by incorporating thin ribbons 1 to 2 shades lighter than the natural color. Because the ribbons are so skinny, the result is much more natural-looking than traditional highlights. The best part is they're low maintenance. They blend so well with your hair, you can wait longer between appointments.
Galaxy Hair
Not to be confused with rainbow hair, this trend blends tones of blue, purple, green and sometimes silver to match your favorite galaxy formations. The process can take up to 4 hours and involves stripping hair of its natural color and applying a variety of hues fading into one another. Some beauty junkies really do shoot for the stars.