These Haircut And Color Trends Are Going To Be Huge In 2017
Imaxtree.com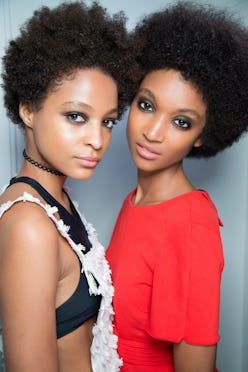 When it comes to hair trends, we're seeing the future, and it looks really, really good. Ahead, we're predicting next year's biggest cuts (think personalized) and colors (from palest white to jet black). If you're like us and prefer to stay ahead of the curve, read on and choose which of these you'll rock before everyone else. It pays to be early.
Because one size does not fit all, haircuts will be more personalized in 2017.
Whether you have subtle waves or kinky curls, natural texture in. Our advice: See your stylist for a cut that suits you. The best part is, your mornings will feel a lot easier.
There once was a time when all bangs looked the same: straight across, brow grazing, blunt and chunky. In 2017, every girl will take the look for her own spin. Interpreted as a cluster of curly tendrils, micro or big, blown-out fringe, it's never looked cooler.
Emerging from the natural-texture trend, the afro will be more popular than ever. Ranging in length, shape and curl size (anything goes), we're excited to say good-bye to harsh relaxers in 2017.
Shades will be much more natural-looking in 2017—no more chunky highlights, dip-dyed ombré and high-contrast roots.
Even if you weren't born with it, you can still achieve a realistic red (especially when you tint your brows to match). Keep in mind that this one can be difficult to manage.
We saw a major influx in pale tresses this year across a wide variety of ethnicities and skin tones. In the new year, blondes will get a lot less yellow and a lot cooler (pun intended), and this look has more staying power than colorful pastels.
Who said jet-black hair was boring? Next year, the deep, darkest-of-dark color will be so on trend. It looks amazing on all skin tones and really makes a statement. Basically, if you're in to drastically change your look, this is it.