2016 Hair Trends: The Best Styles Of The Year
MatteoScarpellini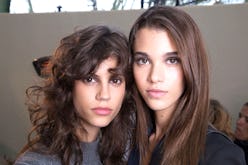 We've spent month after month celebrating the coolest hair trends, and just like that, 2016 is almost over. Time flies, but the good news is, if you found a style you love, you don't have to abandon it just because the year is up. Here, see the best looks of 2016 that'll still be chic next year.
Modern plaits have stayed in rotation season after season for the past few years. Perfect for breaking out of a rut or masking second-day hair, they're sure to be back in 2017.
We saw a major influx in the palest tresses this year, across a wide variety of ethnicities and skin tones. With more staying power than colorful pastels, this (non) color trend is sure to remain in play next year.
A chic chignon will never go out of style. Sculptural buns (in singles or in pairs) are the cure for pulling hair away from your face without looking basic.
Whether you prefer the look of a single barrette or a collection of jewels, adding a special something to your hair has been a trend since the days of Marie Antoinette, and we see no signs of it stopping.
We're not saying this look is for everyone, but hear us out. While it takes chutzpah to pull off a buzz cut, when done correctly, it can step up your beauty game exponentially and show off your best facial features—and that will never not be on trend.
Whether you have straight, wavy, curly or kinky hair, your natural texture is timeless. Work with your stylist to find a cut that complements, and you'll love living that low maintenance life far past 2016.
Soft, ladylike, old-Hollywood waves have never looked better, paired with a floor-length gown or jeans and a tee.
Full, straight-across bangs have gained major cool-girl cred in recent seasons. We predict this classic style will see many more high points in 2017.