10 Tricks Used By All Women Who Have Great Hair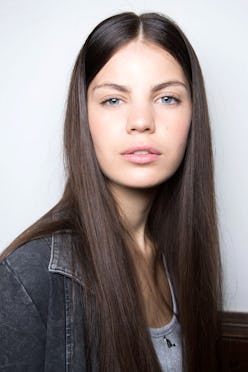 Before you blame your lackluster locks on your parents, know that gorgeous hair isn't just about good genes—it's about good habits. We've got 10 foolproof updates to everyday rituals—from shampooing to brushing—that will help you take matters into your own hands, and your mane will look softer and feel stronger than ever. Throw on a hair mask and take notes.
Bring On The Good Hair Days
Do Weekly Hair Masks
Whether your hair is over-processed, sun-damaged or just plain dry, there's a mask for that. A weekly hair treatment will soften and hydrate.
Minimize Shampoo Sessions
Washing too often can strip your scalp of natural oils and dry out your hair. Go longer between suds sessions by freshening blowouts with dry shampoo, getting creative with braids and investing in a good hat. Your hair will thank you.
Turn Down The Heat
We get it, shunning hot tools altogether is not always an option. If you must use a blow-dryer, curling iron or straightener, try working with a lower heat setting. It might take a bit longer, but your hair will look and feel much healthier. As always, use a heat-protecting cream or spray.
Wash With Cool Water
Scorching H20 can strip your scalp of natural oils, leaving it dry and flaky, and can even cause hair loss. Instead, rinse with cool water to close the hair cuticle and lock in moisture.
Sleep With A Silk Pillowcase
Cotton pillow covers can tug at your locks and cause breakage and split ends. They're also absorbent, so they can suck up the moisture in your hair, leaving it dehydrated. If you haven't already invested in silk, it's time you considered it.
Indulge In Scalp Massages
Not only does a scalp rub feel amazing, it boosts circulation, which can promote new hair growth. Get a massage tool for an at-home spa experience or pop into a salon every two weeks for a professional treatment.
Know You Are What You Eat
Incorporating plenty of protein like fish, meat and legumes into your meals is the best way to strengthen your roots and give your locks shine. If your diet is lacking in this area, try supplements to treat from the inside out.
Keep It Moisturized
You put lotion on your body every day, why not do the same for your hair? Apply a cream to your ends daily to keep them hydrated without weighing down your style.
Know The Rules Of Brushing
First, wet hair is fragile hair, so leave it alone. But when it comes to choosing a brush, keep in mind that stiff bristles can create split ends and dry out the hair, so find one with thin, flexible bristles that make detangling painless and prevent breakage. And don't brush too often!
Get Regular Trims
A quick shape-up will ensure minimal split ends and breakage. Popping into a salon every six to eight weeks will keep hair looking and feeling healthy.