10 Romantic Hairstyles To Wear On Your Next Date Night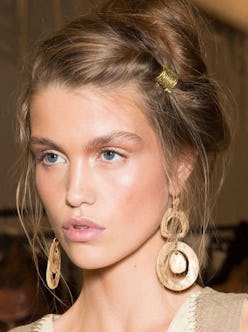 You have enough to worry about before meeting a new guy for the first time: What to wear? Where to meet? We get it. Since dates can be nerve-racking, we're giving you one less thing to worry about: your hair. We've seen enough runway shows and red carpets to know that the most romantic hairstyles are tousled, touchable and surprisingly easy to master. Here, 10 hairstyles that will make date number 2 a shoo-in.
There's nothing more romantic than imperfect, face-framing tendrils. Twist just the right amount of hair out of your face and embellish a pretty hair accessory. Skip hairspray, gel, mousse and any other products that change the texture of your natural hair.
This hairstyle looks like it just stepped out of a Shakespearean novel—if that doesn't say romance, we're not sure what will. To get the look, create a crown braid as usual and use comb to pull out long strands.
In Hawaii, wearing your hair on a specific ear symbolizes whether you're single or taken—like Facebook's relationship status before technology. Use a 1-inch barrel to create tight curls and brush them out to give hair a frizzy look. Create a deep side part and embellish with tropical flowers.
Skip the boring ponytail—this is your big night. Part hair in the middle and braid a section on both sides. Pull hair into a low ponytail and tease for added texture.
Surprise your date with an unexpected use of your basic hair accessories. Straighten hair and smooth flyaways with hairspray and a comb. Place a pretty headband along the nape of the neck and pin in place behind the ears.
When in doubt, always go with sexy texture and subtle beach-babe waves. Use a 2-inch wand to curl hair and work in a paste to give hair that messy look.
Having a romantic dinner by the beach? Opt for boho-chic braids. To get the look, create a few micro braids in random places and tease the ends to secure.
We love this look so much, there's no way your date won't too. Rather than telling you how to get the look, we'll just show you. Here's how to get this romantic braid.
Since there's nothing sexy about hair ties, just leave them at home tonight. Grab a small section of hair from behind each ear and braid them until they meet in the middle. Weave them together in a tight braid and tease the ends to secure.
This is a romantic hairstyle if we've ever seen one, and the best part is it's probably the easiest to create. Start by using a texturizing powder to give hair that messy look. Beginning at the nape of the neck, twist along the hairline and pin. Continue until you've twisted all the way around. Throw some tiny flowers in there for added romance.