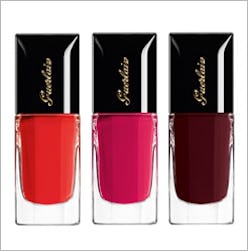 Nail polish in an essential accessory year-round. For spring, we like to don an array of vibrant, colorful shellacs that exude a fun, fresh and feminine vibe.That is why were absolutely delighted to come across Guerlain's new lacquers in a slew of daring shades!
From the beauty buffs at Guerlain, today's glam glosses incorporate adhesive resins that provide a perfectly even shine that lasts days. Offered in a variety of hues—from a wearable neutral to a bold fuchsia—each polish imparts a reflective, lustrous and flawless finish due to its extra-flat, widened brush and easy-to-use formula. Looking for a new seasonal add-on? Try Guerlain's sensational shellacs for the ultimate accompaniment to any ensemble!
Availability: Guerlain Gloss d'Enfer Maxi Shine Le Vernis ($23 each). For additional information, visit Guerlain.com.