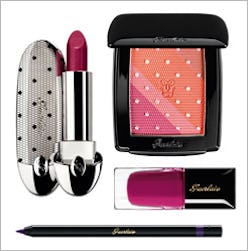 Get ready to make some space in your cosmetic cases, Zoe Reporters! Guerlain's fall collection has officially arrived and its prettily packaged delivery of rich, high impact color has never looked better.
Filled with lush, glitzy glosses, shimmer-kissed compacts and not to mention a scintillating lipstick safely concealed in fishnet casing, the collection embodies a sense of sleek femininity and refined glamour (fittingly fronted by the gorgeous Natalia Vodianova). Line your lids with a velvety, violet liner or dab your cheekbones with a sweep of multi-shade blush, you'll have that Parisian-chic look in no time.
Availability: Guerlain Fall 2013 Voilette de Madame Collection ($23-$67). For more information, visit Guerlain.com.