How To Rock Glitter As An Adult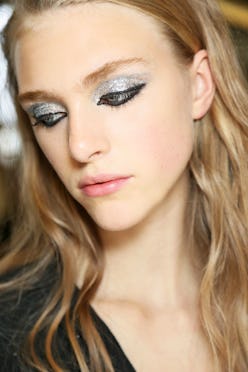 Have the urge to sparkle but feel like your days of wearing glitter should be behind you? Think again. Glitter makeup can be your best friend–but if you don't have a plan, it can quickly become your worst enemy. When applied the right way, infusing shimmer into your makeup routine is glam, not ghastly. And since we all love a little sparkle, we put together tips for you to keep in mind the next time you feel like rocking glitter but don't want to look like you belong in junior high.
Sparkle Like A Grown-Up
Photo: FirstView
Eye Shadow
Incorporating shine into your look with a glitter eye shadow is an easy way to make an impact.
Work with an ultra-fine glitter so that you don't have to worry about it getting into your eye (trust us). An eye-shadow primer works as a glue to keep glitter on your lid, not all over your face. Tip: If you do get some spillage on your cheeks, use a strip of tape to gently remove glitter without ruining your makeup.
If you're not ready to go full-on disco ball with your look, try a liquid metallic eye shadow for a subtle shine.
Eyeliner
Here's where it gets tricky: We love a perfectly glittered cat eye, but not when it's paired with shiny eye shadow and loads of sparkly mascara. Keep eyelids matte and use a glitter liquid liner to create a thin line that wings out at the corners. For an even bolder statement, try layering a classic black wing over glitter liner.
Lipstick
Draw attention to your pout with a seriously sparkling topcoat over your lipstick.
Prep lips with a lipstick primer and apply a coat of creamy lipstick. Then dab loose glitter onto lips in the same hue as your lipstick. Keep it sophisticated with a deep ruby shade and pair with a matte foundation and minimal blush.
If a mouthful of glitter is too daring for you, try a super-shiny lip gloss over your lipstick instead.
Nail Polish
If wearing glitter on your face is just not your thing but you refuse to let the holidays go by without infusing some sparkle into your look, take the shine elsewhere. Layer 2 glitter nail polishes over each other for a multidimensional, glossy look.