A Glam Weekend Mani In 3 Steps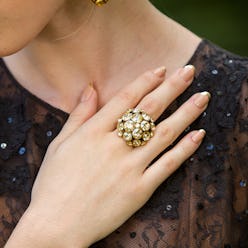 The holidays are far from over and we've already seen our fill of festive red manicures. Enter nail guru Jenna Hipp with a unique and easy at-home mani that is a fun as it is festive. The best part? You can perform this fingertip-touchup in your pajamas while watching a holiday movie marathon. We give that (a very polished) two thumbs up.
Nail Guru, Jenna Hipp
"Purposefully imperfect, the foiled-French tip over a full coverage flesh tone nude is meant to be unique on each nail. Modern. Young. Fresh. Elegant."
Excellent news for those of us who aren't pros in the polish department!
Photo: Courtesy
Step 1: Prep
Remove old nail polish and soak nails in warm water. Use a hand cream and cuticle pusher to tame cuticles. File and shape nails.
"Never push back your cuticles when they're dry, as this could easily cause painful hangnails later."
Step 2: Press-On Nails
"I opted for the French tip design so I could use the tip as a guide for the gold foil. Superglue damages the nail so instead opt for press-ons that come with adhesive tabs."
Find the appropriate size for each nail and place aside in the order of placement.
Lower artificial nail onto natural nail cuticle end first. Trim square edges with nail clippers and file to an almond shape.
Step 3: Gold-Leaf Tips
Paint nails with 2 coats of nude polish and let dry completely.
Paint a thin coat of specialized foil adhesive on each French tip and wait until adhesive is clear. Press gold foil on top of adhesive and immediately pull off. Seal with a clear coat of polish.
Accessorize
Highlight your fresh mani with gold accessories and a little black dress.