From Gym To Work Without Looking Like A Hot Mess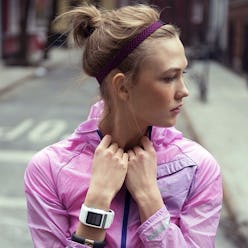 We've used pretty much every excuse to get out of an early-morning workout, including there not being enough time to get ready before work. Call it lazy but there's nothing wrong with not wanting to roll into the office looking completely haggard. Our solution? Updating your beauty regime. These 5 products will get you from the gym to your morning meetings looking flawless. Now you can squeeze in a workout anytime without the fear of leaving the gym with frazzled hair and streaky makeup. If you still can't make it to your sweat session before work, you can still use the excuse that you're not a morning person—unless of course that is an actual fact like it is for us.
After-Gym Game Plan
Refreshing Hair Mist
When you want something a little more subtle than your heavy texturizing dry shampoo, this mist freshens up your hair without the thick residue. Infused with vinegar, sage, lavender and rosemary, this spritz removes all traces of sweat and makes it smell good while adding a hint of shine.
No-Rinse Cleansing Body Foam
Since not all gyms are equipped with showers, this product is perfect for freshening up on the go. A few pumps of this makes you feel (and smell) like you showered.
60-Second Facial
Think your morning is too busy to squeeze in a facial? Think again. This 1-minute facial deep cleans, brightens skin and cools you down post-workout.
Foundation And Concealer Duo
All you need to look instantly pulled together is great-looking skin (even if that means faking it with a killer foundation). Apply the SPF-infused foundation all over and go back in with the concealer to cover blemishes and dark circles. We promise, your skin will never look better.
Do It All Cream Color
This creamy pink lip and cheek color also doubles (or triples) as an eye shadow. The shade is universally flattering and is the easiest way to achieve that no-makeup makeup look. Swipe on a mascara and be on your way to work.