The Sweetest Skin-Saver Ever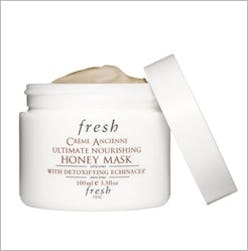 If you're craving nourished, resilient skin, look no further than this one-of-a-kind honey-based face mask from Fresh.
Considered a major breakthrough in beauty, this creamy, luxe mask omits the sticky texture associated with honey and replaces it with hydrating and anti-aging advantages. Fashioned in a formula that doesn't over-dry when applied, Fresh's latest treat has naturally become a current fave of our editors (we tried and love!). Take our word and reward hydration-hungry face buds with a taste of honey!
Availability: Fresh Crème Ancienne Honey Mask ($130). For more information, visit Fresh.com.