5 Beauty Habits To Steal From French Girls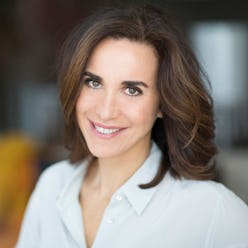 We love everything about French girls: Their effortless beauty, flawless skin and perfectly messy updos, to name a few. We tapped true-to-life French girl Mathilde Thomas, founder of Caudalie Paris and author of The French Beauty Solution, to find out how to give our beauty routines that cool-girl je ne sais quoi.
C'est Magnifique
Photo: Courtesy
Have A (Day And Night) Plan
Every morning, apply an antioxidant moisturizer with SPF to protect your pretty face from the sun's harmful rays. At night, give your skin a deep cleanse with a light exfoliation.
Know Where To Shop
French girls go to their pharmacist to buy the best of the best. A micellar cleansing water is a fan favorite because it cleanses skin and removes all traces of makeup without drying out your dewy glow.
Get Some Color
Don't be afraid to add a pop of color to your lips. French girls like to use their friends as their personal focus group. Once it gets the seal of approval, throw on a midi skirt and some cat-eye sunglasses and you're good to go.
Think Outside Your Face
The French know that beauty regimes don't stop at the face. Instead, they extend their beauty routine to the neck and décolleté.
A Hair Rinse Is Key
Make your hair shine as bright as the sun by rinsing it with a splash of pure vinegar before your regular shampoo routine.