Find The Perfect Nude Nail Polish For Your Skin Tone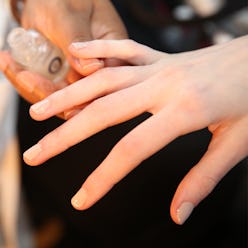 The perfect nude nail polish can transform your entire look with just a single swipe of the right shade. A fleshy manicure looks crisp, clean and well-groomed; not to mention expensive and versatile. Like a great pair of nude pumps, this look is sure to go with every piece in your closet. However, finding that exact match is no easy feat. Think of this as finding your foundation shade; it's a particular process that can easily make or break your entire look. Stick with us and we'll show you our tricks of the trade.
Follow our clever matching methods to get the best nude manicure for your skin tone.
Photo: Courtesy of Essie
Fool-Proof Pairings
Simply taking a look at your unpolished nail, will point you in the right direction. Usually nail beds are pink, white or the same color as your skin. These are the undertones you will need to look for in a polish. A polish that matches your nail bed will match your skin tone.
When we said to think of this as finding your foundation shade, we meant it. The easiest way to get the perfect match is to hold a bottle of polish up to your foundation for a side-by-side comparison.
For Fair Skin
Avoiding choosing a beige with prominent pink or white undertones. This will make your skin look washed-out and can resemble the dated French manicure.
Your nails may be prone to revealing a yellowish shade after a dark manicure. Before painting, soak them in lemon juice to prevent the stains from dulling your nude polish.
For Olive Skin
Stay far away from yellow undertones; this will make your manicure look sickly and stale. For a youthful glow, add a rosey champagne shade after your base coat and under your nude polish.
White nails are common on dark and olive skin tones. Look for lacquers with pinkish tones for a nice compliment.
For Dark Skin
Steer clear of nude colors that have an ashy gray undertone. This will make your hands look unnatural and dull.
For a nude lacquer with some oomph, top off the look with one layer of matte polish. A shineless nail in your skin tone will look like you were born with perfect nails.
Perfect The Look
Keep nails short. A crisp manicure is nothing if it isn't well-groomed. File them down to a tidy length and square off the edges.
Smooth them out. Nude nails can be very telling of textural imperfections so buff them out before applying a base coat.
Protect your polish. Did you know that they can easily turn yellow after a day in the sun? Apply an SPF topcoat to preserve your paint job.
Dress up your fingers. If you think that nude nails are boring; think again. This is just a perfectly simple palette to add embellishments in the form of pretty rings.