10 Products Your Dad Never Knew He Needed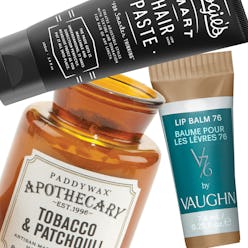 Dad might not always know what's best for him, especially when it comes to finding cool, under-the-radar grooming staples. The good news is he has you. Pick up some of these products and see how quickly you get promoted to favorite child (as if you weren't already).
Father's Day
Father's Day is right around the corner–make sure you get him something good!
Exfoliating Face Wipes
Going from the gym to work has never been easier.
Shaving Cream And Aftershave
The caffeine in these products gives dad the best shave ever.
Bar Of Soap
When in doubt, get him something practical.
Candle
Guys like candles too–just make sure to get one that smells and looks masculine.
Lip Balm
Pick a lip balm that softens his lips without making them shiny.
Hair Paste
Great hair–now that's something any dad can appreciate.
Face Moisturizer
Moisturized skin is the gift that keeps on giving.
Razor
Dad always needs a razor–get him one that looks sleek on the bathroom counter.
Shampoo And Conditioner
A shampoo-and-conditioner set always comes in handy.