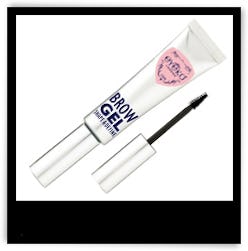 Ah yes, the brow is back. While we've already featured a slew of beauty brews meant to create bold, beautiful face framers, today's installment spotlights a new product that will help maintain them. Eyeko Brow Gel, the latest from the brand's industry experts, uses a nano-brush and botanically enriched formula to effortlessly enhance the look of brows while bestowing just a hint of natural color.
Fit for those with even the most unruly brows, Eyeko's concoction uses Keratin and gingko biloba to thicken and maintain a healthy, natural look that is neat and polished. With an array of tinted colors available, matching blondes and brunettes alike, this genius gel provides long-lasting hold without smudging, flaking or stiffening. Wanting to add a little something extra to your spring style? Brush on brave brows to complete your seasonal look without a hitch!
Availability: Eyeko Brow Gel ($24). For additional information, visitEyeko.com.
P.S. See Eyeko's entrancing products in action in the label's just-launched tutorial video—but beware, you may find yourself watching it on repeat!