Introducing Eve Lom Eye Lift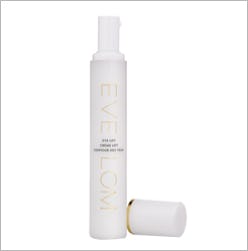 Given it's one of the first areas to show telltale signs of age, we take our eye area—and its maintenance—very seriously. Forever on a quest for the best firming brews, Eve Lom's Eye Lift fits the bill for a power-packed pick-me-up that keeps our peepers looking perky!
In addition to smoothing wrinkles that have already surfaced, this cream also takes preventative action to keep future fine lines at bay. Employing the help of specially formulated Retinol Microspheres, expect a brighter and more radiant gaze with a twice-daily application. For an instant lift and long-lasting results, we recommend this powerful cream—a true treat to ensure your eye contour area is well taken care of!
Availability: Eve Lom Eye Cream ($75). For additional information, visit Evelom.com.
P.S. With mouth-watering details of rose gold and radiant diamonds against smooth ceramic and cool stainless steel, an EBEL watch epitomizes luxury – and makes the perfect Mother's Day gift!