Spotlight: The Honest Company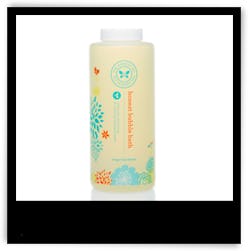 Whenever we hear the term "eco-conscious", our ears immediately perk up. That being said, we are predictably smitten with Jessica Alba's The Honest Company. Originally launched for moms, the gentle label is now coveted by everyone! Click through below to discover Team Zoe's personal favorite Honest products.
Bubble Bath, $12
Among the many things we look forward to in the fall season, a relaxing bubble bath is atop the list. Spoil yourself in suds with this hypoallergenic, tangerine-scented soap.
Shampoo & Body Wash, $10
At Team Zoe, we love anything that multitasks. This gentle two-in-one concoction is the latest essential in our shower caddies.
Conditioning Mist, $6
Whether spritzed in prior to heat styling or before letting your hair dry au natural, this orange and vanilla-infused spray will strengthen and silken your strands.
Body Lotion, $10
Keep dry skin at bay from now to winter with this calming body lotion, made with healing calendula and botanicals.
Body Oil, $10
As self-proclaimed oil addicts, we are unsurprisingly obsessed with this non-greasy skin savior—now an integral part of our post-shower routine!
Healing Balm, $13
A multipurpose must, we recommend keeping this sweet balm nearby at all times to treat cuts, scars or razor burn.
Hand Soap, $6
Your new favorite bathroom and kitchen soap, this wash is concocted with lemongrass oil and grapefruit seed for impeccably soft, clean hands.
Hand Sanitizer, $6
Essential for on-the-go, this travel-sized serum protects from germs without the use of harsh chemicals.