Pucker Up To Our New Favorite Lip Stain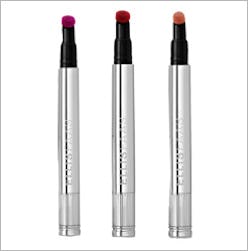 Whether you're after fully colored lips or a more subtly stained pout, Ellis Faas' new long-wear lip color is just the product for the job!
Offered in a range of nine stunning shades, from Fluorescent Pink to Bright Orange, the versatile twist-pen will perk up your pout in a flash for any occasion. Packed with Vitamin E, each application promises to leave your pucker superbly smooth and moisturized even in the frost-bitten months. The perfect finishing touch to make your seasonal wardrobe really pop, throw Ellis Faas' lip color into your makeup bag and enjoy a pigmented punch whenever you so choose!
Availability: Ellis Faas Hot Lips ($35, exclusive to Netaporter.com)
Note: This post was modified from its original format on 11/5/2013