Our Editors Share Their Favorite Beauty Buys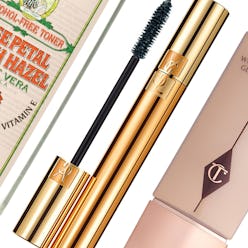 It's our job to find the latest and greatest beauty buys on the market, but there are some products we just can't leave behind. Find out which items we are currently smitten with and which tried-and-true classics will forever remain in our routine. Shop our fave products, and we promise you'll stay gorgeous for many years to come.
Shop Like An Editor
Megan Gustashaw, Editorial Director
Classic: "Essie Chinchilly launched in 2009 so it's more of a modern classic, but I think it'll go down in history as one of the best, most expensive-looking nail polish colors of all time. I never regret reaching for it at the salon."
Modern: "Revlon has been making lipstick since 1940, but their Ultra HD lipstick just launched last year. For the perfect bold red try Gladiolus, which Emma Stone just wore at the 2015 SAG Awards. (I think it made the outfit.)"
Sari Tuschman, Editor-At-Large
Classic: "Pink Chanel lipsticks have been my go-to for as long as I can remember. Chanel makes the best face-brightening shades that last for a long time. You will always find a few of them in my makeup bag."
Modern: "I recently discovered this amazing serum from legendary LA dermatologist Dr. Lancer. It's called Younger, and it really does help make your skin look more youthful. What more could you ask for?"
Nicky Deam, Editorial Manager
Classic: "I'm a blonde which means the struggle to avoid brassiness is real. I use a lavender shampoo once a week, and this one has been a regular in my arsenal for years."
Modern: "These smoothing sheets instantly refresh my hair when I'm heading from work to dinner. Added shine and reduced frizz from a tiny packet that fits in my purse? Slam dunk."
Stephanie Montes, Beauty Editor
Classic: "I've been using this witch-hazel toner since high school. There's no other product that gets my skin cleaner, smoother and more toned than this one. I pour some in a spray bottle and spritz on my face for an afternoon pick-me-up."
Modern: "I just started using this La Prairie eye cream, and I've never felt a creamier, less greasy product. It smells amazing and leaves the area around my eyes moisturized all day. Who doesn't want to combat fine lines while they work?"
Shannon Nash, Fashion & Beauty Editor
Classic: "I swear by these eye makeup-remover pads. Every time I use them, my mascara just melts off—even though I use the oil-free version!"
Modern: "Joya perfume is the only fragrance I wear. The ceramic bottle has a 22-karat, gold-dipped wand that makes putting it on every day an experience in itself."
Kristi Mikesky, Fashion & Beauty Editor
Classic: "One of my biggest beauty pet peeves is when mascara clumps on my lashes—so much so I generally forgo wearing any during the day. This is hands down the best formula I've found that cleanly coats the lashes with a natural but noticeable effect."
Modern: "I layer this formula over moisturizer to make my complexion glow. It's not too shimmery or sparkly and is the perfect pick-me-up when foundation seems too heavy."
Jennifer Ash, Accessories Editor
Classic: "When used with an eyelash curler, this mascara makes my lashes look so good you'd swear they were falsies."
Modern: "This lip tint is truly the perfect shade of nude. It's matte but doesn't dry out my lips—I always get compliments when I wear it."